5 Reasons You'll Love Wiley X Glasses for Motorcycle Riding
If you own a motorcycle, you probably love exploring the great outdoors. Nothing beats riding a bike where you are out in the open air. You never have to engage in small talk with passengers, you get an up-close look at the scenery, and you enjoy every bit of the weather. Hearing the roar of the engine sends a thrill of anticipation for the ride. If you are one of these motorcycle enthusiasts and can relate, then you probably appreciate an awesome pair of motorcycle riding glasses also. That's why we're sharing these five reasons Wiley X motorcycle riding glasses are a fantastic choice.
Tough stuff
It takes a degree of grit and toughness to ride a motorcycle, so we know you'll appreciate the toughness of Wiley X glasses. Why are these glasses so tough? Founded in 1987, Wiley X glasses were originally made for military and police work. That means these glasses were constructed to hold up to the rigorous demands of fighting in the field. Wiley X set the standard in providing a tough pair of glasses by insisting that all the adult eyewear adheres to ANSI standards. ANSI is the American National Standards Institute. Every pair of glasses that has ANSI's seal of approval has undergone extreme testing to ensure they will hold up under severe circumstances. Actually, the way in which these glasses are tested is interesting. Before Wiley X's eyewear can pass the test with ANSI, testers drop a heavy blunt object onto the lens to make sure it doesn't shatter. Then, as if that wasn't enough, they drop another object that is more pointy on the end, somewhat similar to a thick nail. Once the glasses endure these tests, they are stamped with the seal of approval. You can trust that toughness.
Added protection
Wiley X goes the extra mile by offering a line of sunglasses called the Climate Control series. This series has a unique removable foam piece that seals around the eye frames. The foam cavity seal fits snugly against your eyes and is ultra comfortable. What are they for, you may wonder? It offers another layer of protection around the eye that keeps out dirt, debris, and fine particles of dust from getting in your eyes while driving. This is convenient since you'll probably be kicking up a bit of dust riding your bike. This isn't all it does either. Because of the foam cavity seals around your eye, you also have protection from peripheral light.
Options (Rx)
The great news about Wiley X is that most of their lines of eyewear are prescription ready. This is a convenient option for those who wear regular glasses. If you wear regular glasses, you do not have the protection you need from flying debris, accidents, and so on. Normal prescription glasses do not hold up to the ANSI safety standards. Regular glasses do not protect the eyes from debris and dirt like safety glasses do. They also don't incorporate shatter-proof technology. That makes the Wiley X prescription glasses a great choice for motorcyclists. However, if you don't wear prescription glasses and just want a pair of safety and/or sun glasses, then Wiley X offers that as well. With Wiley X you get both the prescription you need to see plus the safety features that keep your eyes protected.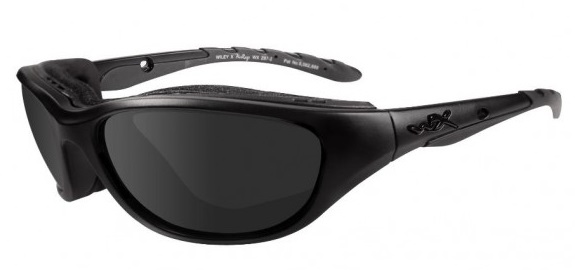 No more glare
Ever have trouble with glare when you're out riding? Maybe it's the glare of the sun reflecting off the water or a glare coming from the sun shining on chrome from the car in front of you. Wherever the glare comes from, it can hamper how you see the road. This can be a real problem, especially when driving in traffic. It's not a problem for Wiley X though. They found a way to eliminate glare with innovative eyewear. Wiley X developed an 8-layer protective lens that meets the glaring head on. Each layer of the lens accomplishes a different task. The result is you have polarized lenses that eliminate glare.
Light adjusting lenses
Sometimes you start out on your journey riding and the sun is behind the clouds but as you drive, it pops out in all of its brightness. Later yet, the sun reduces its intensity making the sky mellow a bit. All of the changing outdoor light conditions can be bothersome for you as you're riding. Regular sunglasses reduce the sun but the amount it reduces stays the same meaning they don't adjust to match the outdoor conditions. When it's overcast you probably want some type of sun protection for your eyes so you're not squinting. However, the full tint of regular sunglasses may be too dark. Wiley X developed light adjusting lenses to meet this need. These lenses will automatically readjust their tint with the changing outdoor lighting conditions. This gives you the perfect lighting for the circumstances, which ensures you see everything clearly. Crystal clear vision means you're safer when you ride.
Finding the right eyewear is an important part of the riding experience. As you prepare for those long sunny afternoon rides, be sure you have the glasses you need to ride in style and safety. Wiley X has a reputation for being top of the line in eye protection. Whether you need prescription glasses, safety eyewear, or sunglasses, Wiley X offers awesome colors and styles. Connect with us today and discover our huge selection of prescription motorcycle glasses.