5 Top Prescription Glasses for Motorcycle Riding
For the motorcyclist, nothing quite beats going for a long ride on a warm day. Enjoying the countryside or cruising along the city streets are equally as exhilarating for the motorcycle enthusiast.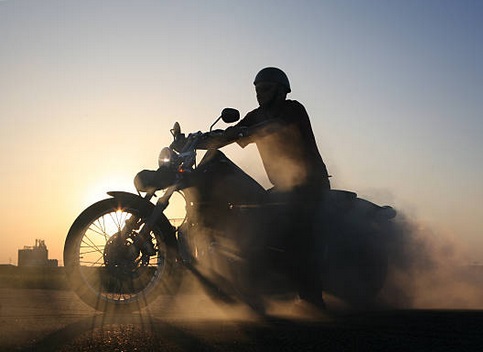 The deep humming sound of the cycle combined with the fresh breeze whipping across your face makes for an awesome riding experience.
Motorcycle riding is gaining popularity. According to the Department of Transportation over 8 million motorcycles are registered in the United States. If you are among the many millions who love their bikes, then you know how important safety is to the riding experience. Protecting yourself is critical for an enjoyable time. If you currently wear glasses, then you will want to invest in prescription glasses for motorcycle riding. Fortunately, companies now make ultra-durable and protective prescription glasses made specifically for motorcycle riding. Not only do these glasses protect the rider, but they are stylish and attractive as well.
Wiley X Brand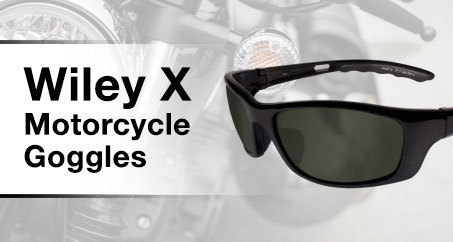 Wiley X is one such brand of motorcycle prescription glasses. If you're not familiar with this brand, you're in for a pleasant surprise. Their impressive history begins in 1987 when they established themselves as a leader among military and police personnel. Developing highly-durable and rugged eyewear for special operations and military units, they earned a reputation as the leader in protective glasses. It didn't take long before civilian markets took notice of the phenomenal construction of their glasses. So, they began marketing to those who enjoy an active lifestyle in sports, motorcycle riding, hunting, and more.
Wiley X Difference
You may be wondering what makes the Wiley X glasses so different than your regular glasses. That's an important question to explore. How do the Wiley X glasses compare to your everyday prescription glasses or sunglasses? Here are some key differences:
Wiley X glasses pass extreme testing before they are put on the market. For example, glasses must pass an inspection that involves projectiles being dropped and thrown at the lens. To pass the test, the projectile cannot penetrate the lens.
Wiley X glasses are given the ANSI Z87.1 seal of approval before being placed in the hands of consumers. This seal further confirms the safety standards the glasses live up to.
To obtain the ANSI Z87 rating, Wiley X glasses must be able to withstand the high velocity and high mass impact testing.
Wiley X glasses boast of shatterproof lenses.
Many of the Wiley X styles exceed OSHA requirements for safety standards.
Some Wiley X models meet the ballistic military standards.
It's obvious that no regular prescription eyewear will come close to this type of protection. And what's better yet is that Wiley X offers these glasses as a prescription. Here is a list of the top recommendations for prescription glasses for motorcycle riding.
Wiley X Prescription Glasses for Motorcycle Riding
Wiley X AirRage, Black with Clear Lens
These stylish black sunglasses have a clear lens and are prescription ready. If you like a different lens color, Wiley X offers a variety of color options. This style is especially great for riding because they exceed the ANSI Z871 high-velocity standard. Designed for a smaller head, they have a sporty look and come with a zippered case, t-peg elastic strap, and leash cord. Another feature of this sleek eyewear is a removable facial cavity seal. This seal fits snuggly around the eyes ensuring that small particles such as dust and debris stay on the outside. A venting system allows air to flow through the glasses to keep you cool.
Wiley X P-17, Black with Emerald Mirror Lens
Perfect for the small to medium-sized head, this frame, these prescription-ready sunglasses have unique emerald mirror lenses while the frame is brown and black. If you prefer a grey or green lens, then you can easily switch to that style with a black frame. Boasting a shatterproof Selenite Polycarbonate lenses means you ride with peace of mind. This model passes the high velocity and high impact standards plus it lines up with the OSHA requirements. You'll get a medium case, t-peg strap, and leash cord with your glasses. Another feature that is convenient while driving is the rubberized temple and nosepiece. This keeps the glasses from slipping down.

Wiley X Brick, Gloss Black Sunglasses With Polarized Grey Lenses
Simple and sleek, these shatterproof sunglasses also meet the highest standards in velocity and impact testing. They also fulfill the standards of OSHA. The removable facial cavity makes a tight seal around your eyes to ensure the ultimate protection. Scratch-resistant technology makes these lenses durable enough for the rough stuff. In addition, you'll love the rugged frame constructed with a triloid nylon frame and memory flex. Neoprene material on the frames near the temple is the ultimate in comfort and flexibility. These glasses come with a medium-sized case that zips, t-peg elastic strap, and leash cord.
Wiley X SG-1, Matte Black with Clear and Smoke Grey Lens
Strap on these lightweight black goggles for a different experience. These comfortable goggles have an adjustable cloth strap that keeps your eyewear firmly in place. You won't need to choose between different lens colors because this model comes with two lenses, grey and clear. You'll feel ultra-protected when wearing these goggles since they meet the military ballistic standards as well as the high impact/ high-velocity standards. Compatible with night vision goggle systems, this eyewear is convenient to wear when taking those late night rides. These come with a nylon case, temples (arms), leash cord, and elastic strap.
Wiley X Saint, Matte Black Sunglasses with Smoke Grey/Clear Lenses
This semi-rimless style of eyewear meets the ANSI Z87 standards and has shatterproof lenses. In addition, these rugged glasses exceed the ballistic standards and are OSHA approved. You'll appreciate the fact that you can change from a clear lens to a smoky grey one, allowing the amount of light you want to filter in. No matter which lens you choose, your eyes are 100 % protected from UVA/UVB rays. In addition to these superior features, you also have a double injected nose bridge, which ensures a snug fit. These glasses come with a leash cord and zippered case.
As spring approaches, make sure you have the ultimate eye protection with a sleek new pair of Wiley X prescription glasses. Ride in style. Ride in safety.