6 High Quality Motorcycle Riding Glasses For Women
It is no great secret that many women of all ages love an exhilarating bike ride on the road just as much as the next person and to be able to enjoy such a ride to the fullest extend, the proper safety gear is needed. If you are looking for the right high end gear to wear for your motorcycle riding hobby, you probably already know that protective eye wear is just as important as a sturdy jacket, riding boots, and helmet.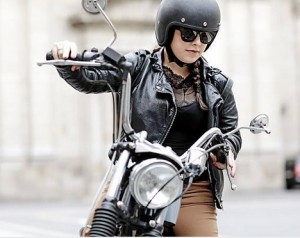 Without protection for your eyes, you leave yourself at a tremendously heightened risk for danger on the road. But by wearing the right motorcycle riding glasses, you can shield your eyes from glaring sunlight, harsh winds, debris, and other risky factors that could compromise your riding. If you are in the market for high quality eye wear options, look no further. In this post, we will take a look at six popular motorcycle riding glasses for women.
Wiley X Air Rage Sunglasses: Though they are technically unisex sunglasses, the Wiley X Air Rage Sunglasses are most suitable for women and anyone with small to medium size heads. They come in a sleek, gloss black color and the frames are incredibly lightweight yet durable. The frames are built with a symmetrical venting system to allow cool air to enter in and optimize your level of comfort, particularly when riding in hot climates. Women who choose this eye wear option can select a variety of polarized lenses in different shades. The polarized lenses minimize glare and increase visibility while simultaneously improving depth of vision. Although the original frame color is black, buyers can choose between different frame and lens color combinations to achieve the stylistic look they want. The glasses also come with detachable facial seals that are designed to absorb sweat and block dirt and other debris from getting in and irritating your eyes.
Harley Davidson Blue Mirror Lenses: These sleek and sporty sunglasses are designed to accommodate multiple needs and come with several beneficial features. The stunning blue lenses are constructed with an anti-fog coating and scratch-resistant coating. And the black wraparound frames designed with a polycarbonate material that offers optimum comfort and security. The tinted lenses do an excellent job of blocking out glaring sunlight and offering maximum clarity on hot, sunny days. Though these glasses provide a secure fit for almost all head sizes, they are best for riders with a petite face. The lightweight frames are durable and fit comfortably so the rider doesn't have to worry about looseness or frames that slide down the nose when riding.
Harley Davidson HDX865-Gun-3 Fashion Sunglasses: These affordable, high fashion, aviator-style Harley Davidson sunglasses give off a chic appearance, yet still prioritize comfort and security when on the road. The tinted lenses offer protection from harsh sunlight and promote greater visibility on the road. The lenses are also scratch-resistant, high impact, and weightless, making them extremely comfort for long rides. They also come with plastic temple tips and adjustable nose pads for an added element of security and comfort.
Smith Pivlock Asana Sunglasses: The Smith Pivlock Asana Sunglasses are some of the most stylish motorcycle riding glasses on the market and come in a variety of colors including white and purple, bronze and brown, and white and platinum among others. They are also designed with multiple features in mind such as a hydrophobic lens coating, TR-90 frame material, carbonic TLT lenses, a lens interchange system, adjustable nose pads, and temple tips. Although these glasses definitely create the ultimate cool girl image, they do so much more than just make the rider look good; they are also designed to offer the highest level of convenience, comfort, and security on the road. The interchange system allows you to swap out lenses quickly and seamlessly when needed and the nose pads and temple tips keep sweat, dirt, and other debris out so you won't ever have to worry about anything getting in your eyes when you are riding.
Wiley X WX Sleek Sunglasses (in Purple): These fashionable, edgy sunglasses come in a matte violet color with silver lenses to add extra flare to your riding experience. The Wiley X WV Sleek Sunglasses are military grade and offer the maximum level of protection against flying objects and other debris on the road. Designed for multiple purposes be it military use, shooting, outdoor tactical work, or motorcycle riding, these sunglasses are constructed with scratch-resistant lenses, shatterproof protection, and UVA and UVB ray protection. The added benefit of the Wiley X WX Sleek Sunglasses is that they come with prescription and non-prescription lens options.
Bolle Safety Glasses: Don't let the affordable price tag of these riding glasses fool you; there is a lot of value that they have to offer. The clear lenses come with an anti-fog coating and the frames are constructed with co-injected flexible temples, a non-slip bridge, and upper protection for a more comfortable, secure fit. Along with the anti-fog coating comes a scratch-resistant coating to provide the maximum level of protection for the lenses and your eyes as well as optimized clarity while on the road.
Looking for other popular motorcycle riding glasses for women? Keep reading our other blog posts for more information and check out our website for additional resources! Whether you need traditional motorcycle riding glasses, sunglasses, or prescription glasses, we are happy to help you find the right fit.