6 Underrated Considerations for Prescription Motorcycle Riding Glasses
You know that safety is key. You already know that, when it comes to your prescription motorcycle riding glasses, you need to make sure that you get the exact lens you need to make you see as clearly as possible.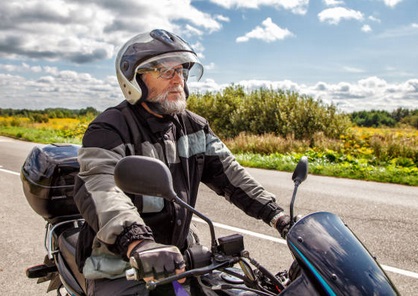 But you might not know that this is far from your only consideration.
In fact, a number of factors can make the difference between enjoying your ride, and failing to ride safely while putting yourself in potentially serious danger. Some of them, you already know. But we're willing to bet that you are far from knowing all of them.
So before you start looking for a product that matches your needs, why not make an effort to fully understand your needs to begin with? Here are 6 underrated considerations you should take into account when looking for new prescription motorcycle riding glasses.
1) The Stylistic Fit
First things first: how important is style to you? Some riders already know that this is an important consideration. But not nearly all of them do. And when you don't, you risk running into trouble later.
Let's face it: riding your motorcycle is as much a stylistic as it is a functional choice. Do you really want to wear glasses, even if and especially as it gets warmer, that you don't actually feel comfortable as a fit to the rest of your style? We're willing to bet that you're not.
That's why the stylistic fit matters, potentially more than you think. It helps you find glasses that you'll actually be happy to wear, no matter the situation. As a result, you'll become more likely to wear them, see clearly, and drive safely.
2) The Physical Fit
As much as style matters, physical fit might be even more important. As you're riding your motorcycle, you have to make sure that your glasses fit comfortably on your head no matter the situation. That can be difficult to achieve at first, but is nonetheless crucial.
Imagine, for instance, wearing a helmet to increase your safety as you're riding. Can you find glasses that are just as comfortable when you're wearing that helmet? If not, you might forego them or the equipment, and put yourself and anyone on the road with you in danger.
Goggles may be the best, but are far from the only choice. Make sure that you find glasses that actually fit your head in the situations you'd be riding in. Only then can you comfortably say that the glasses actually benefit and improve your riding experience.
3) The Coating Options
Did you know that you can customize prescription glasses depending on extra features you might need as you're wearing them? That fact is true, and it becomes especially relevant for anyone riding a motorcycle. Just a few of your coating options include:
UV coating, which protects your eyes from potentially harmful rays. Car drivers can benefit from their windshield's natural coating, but you won't be able to.
Anti-fog coating, which means you don't have to worry about decreased visibility during humid conditions. Especially if you ride during dawn or dusk, or even rain, this option becomes crucial.
Anti scratch coating, which increases the durability of your glasses. Add it to your lens, and your eyewear turns into crucial protection against small rocks and pebbles from the road.
Of course, these are just a few of the many options available to motorcyclists. Find the one that fits your needs, and maximize your riding experience as a result.
4) The Transitions Opportunities
You need sunglasses when it's bright out, and regular glasses when it's cloudy or evening. But what if the weather and brightness transitions from one into the other? When you're riding your motorcycle, you don't always have time to switch and make sure your eyewear matches the conditions.
That's what makes transitions glasses so valuable. They're a type of lens, which darkens automatically when hit by light, within a timeframe just a bit longer than a minute, it will have adjusted itself to become as dark as sunglasses, and vice versa to make sure you always see clearly.
For any type of eyewear, this function is beneficial. When riding your motorcycle, it can become invaluable. Your glasses remain equally functional, regardless of lighting conditions. As a result, you can drive more safely, knowing that your glasses will have you well prepared for sunny weather, dark skies, and anything in between.
5) The Durability

Finally, don't underestimate the importance of durability when it comes to your glasses. Simply put, they need to hold up to stringent conditions. You don't only ride when it's sunny out, especially not if you use your bike to commute to work or any other type of regular transportation. In that case, you have to make sure that they hold up to the elements.
Durability, in other words, is key. Just as scratch resistance matters, so do your eyewear's abilities to stay in shape and not get bent easily. Any pair of glasses that cannot offer that benefit may not be worth your time and money.
6) The Right Merchant
Combined, the above five factors can help you find the right pair of glasses for any type of situation on your motorcycle. They might be underrated, but that doesn't make them any less special. Of course, none of that matters if you don't buy them from the right place.
Imagine finding the perfect pair of glasses. You enter your prescription, choose all the right customization option, and pay for them. But when they arrive, they're nothing like what you were promised. Only choosing the right merchant can rectify that situation.
Look especially for the average customer ratings, as well as returns and warranty policy. That way, you can find the best possible type of glasses online, without having to worry about potential quality issues. By the time you select all of the features you want and need, you can rest assured knowing that the pair of glasses you get will be the perfect companion for getting on the road.