Are Wiley X Glasses For Motorcycle Riding Right For You? These 9 Factors Will Help You Decide
Choosing the right pair of prescription motorcycle glasses is a big decision. Your eyewear affects your safety, comfort, and ability to clearly see all the amazing scenery around you. If you ride at night, choosing the right pair of glasses is even more important. If you're considering a pair of Wiley X glasses for motorcycle riding, read on to decide whether these top-of-the-line specs are right for you.
Safety is a high priority
If safety ranks high on your priority list, Wiley X glasses might be right for you. This brand has been the gold standard for safety for more than 25 years, and it's the top choice for NASCAR drivers, police forces, and even the US military. With the highest rankings in ballistic technology and impact resistance, these glasses will hold up to a beating. Wiley X tests their products with everything from nail guns to firecrackers to make sure they'll keep you safe. From debris kicked up by other vehicles to motorcycle accidents, these lenses have you covered. If you never want to worry about eye injuries on the road again, Wiley X prescription motorcycle glasses might be the right choice for you.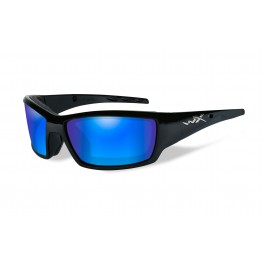 You ride in direct sunlight
If you frequently ride in direct sunlight, you know that glare is a real problem. More importantly, riding without sun protection can cause cataracts over time. All Wiley X lenses provide 100% UV protection, keeping your eyes safe for the long-term. If glare causes problems for you, consider getting polarized lenses. The polarization technology at Wiley X filters out 99.9% of the sun's glare to give you optimal clarity and contrast.
You want full coverage protection
Glasses that fit the contours of your face provide the best protection and greatest visual field. The problem with many brands of glasses that wrap around your head is that your peripheral view gets distorted. Wiley X, however, uses digital prescription lens mapping to ensure your vision is perfectly clear all the way to the edge of the frame. The point by point mapping provides a wide range of clear vision and an optimal reading zone that fits to your face shape.
You ride in hot or cold weather
If you've ridden across a desert or through chilly mountains, Wiley X glasses might be right for you. Extreme conditions can cause cracks and scratches on normal lenses. Wiley X uses a double-layer of their scratch resistant coating for optimal scratch resistance. It's designed specifically for extreme weather and ensures that your glasses will last. If you're wondering about scratch protection from impact, Wiley X has you covered there, too. Their lens material stands up to scratches from flying debris and other safety hazards, so you don't have to worry about a scratch blocking your view.
Comfort matters to you
An uncomfortable pair of glasses is always a deal breaker, especially if you're wearing them on an all-day ride. Metal frames and plastic nose pieces can make a great trip completely miserable. To combat these common problems, Wiley X designs their glasses with rubber nose pieces for non-slip comfort. Rubber temple grips make sure your glasses won't move from their place. For long-term wear in sand, wind, or dust, Wiley X offers some of the most comfortable goggles in the industry. With removable temples and a fully adjustable strap, these goggles keep out the elements and provide complete protection for your eyes. If goggles aren't for you, many pairs of Wiley X glasses offer removable facial cavity seals that keep out even the finest dust, pollen and peripheral light.
You want eyewear that doubles as a pair of safety glasses
While frames from Wiley X offer modern styles that look great on or off the road, they also double as safety glasses. Removable side shields are the perfect way to use one pair of glasses for multiple purposes. Shatterproof lenses with top-quality scratch protection are the perfect way to stay safe on the road and at work. Wiley X offers frames that not only meet, but consistently exceed the OSHA standards for industrial safety.
You're looking for the perfect fit
Many brands offer glasses in a limited range of sizes. These glasses are typically adjustable to a certain extent, but don't provide the flexibility necessary for a perfect fit. Wiley X offers glasses in a variety of sizes and styles for optimal comfort and clarity. In addition, many of their frames are easily adjustable. From custom-fit wire core temples to completely interchangeable lenses, Wiley X goes the extra mile to make sure your glasses fit perfectly for the long haul.
You hate it when your glasses fog up
If your lenses suddenly fog up on the road, it really compromises your safety. Ask about the anti-fog protective lens coating for your motorcycle riding glasses. Fogged glasses are an annoyance anytime, but it's especially important to have this safety feature while riding.
Value is important to you
Many popular brands that offer full coverage lenses and high quality coatings are extremely expensive. This is where Wiley X really differs from everything else on the market. They offer a sturdier, higher quality product with the latest technology for a very reasonable price. Wiley X glasses give everyone access to state of the art lens and frame technology at a price you can afford. If value matters to you, Wiley X is the best place to start.
If you relate to any of the items of this list, Wiley X might be right for you. To talk to an expert about prescription motorcycle glasses, visit our website today!