Find the Best Prescription Glasses for Motorcycle Riding
Did you know 6 out of 10 people wear glasses or use contacts? According to a recent study that number has gone up in the last few years. What does that mean for you as a motorcycle rider? It means you need to not neglect your prescription glasses for the safest riding.
Prescriptionmotorcycleglasses.com is your home for the best prescription glasses for motorcycle riding. Whether you plan on wearing a full-face helmet, a half helmet, or no helmet, we have styles that are right for you.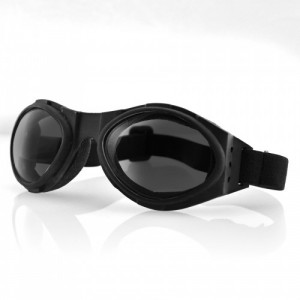 If you can get away with not wearing your glasses, you might be tempted to not bother with them when motorcycle riding and just wear sunglasses or your helmet. But it is important that you are wearing your prescription. There are enough dangers to consider when you are riding, that you need optimal vision. A rider needs to be paying close attention to all other drivers, watching for debris and sand on the road, and paying extra attention to all road signs and traffic signals. In order to do this, a rider needs to eliminate any concerns with their eyes by having the right eyewear.
There is a saying among motorcycle riders which is ATGATT. ATGATT is an acronym for "all the gear, all the time." If you consider each time out on your motorcycle as not just an opportunity for fun, but also an opportunity that you can get hurt, you won't neglect any of your gear. Whether you are going on a 200 mile ride, or a 2 mile ride, having all your gear will be easier with prescription sunglasses.
We carry many styles of Wiley X brand sunglasses that are perfect for a sleek, sporty look and sun and debris protection. We carry styles with clear lenses, tinted lenses, and polarized lenses, depending on your preference. Prices range from $70-$140, so you can find something in your price range. Other features of some of our Wiley X glasses are Top Down ventilation so you don't have to worry about your glasses fogging up, and an extra layer of foam for added comfort for those long rides. This extra foam adds protection, were you to get in an accident. Also, these Wiley X motorcycle riding glasses have a seamless hinge so they are more durable.
If you want something that is going to fit snugly to your face, we can put your prescription in our Bobster brand goggles. The Bobster Bugeye Goggles have a low enough profile to fit under a helmet if you desire. They also have an adjustable strap so they fit snugly to your face. The foam seal around the goggles is open cell sweat absorbing foam to keep sweat from dripping into your eyes. But it also provides the best protection from any debris from the road flying into your eyes. These goggles start at just under $10, so they are an extremely affordable option for riders.
Check out our wide selection of glasses at prescriptionmotorcycleglasses.com today. We also have glasses for all of your eyewear needs, including popular brands of eyeglasses, like Ray Ban, Fossil, Hugo Boss, and Spy. We can put your prescription in any of our styles of sunglasses, as well as protective eyewear for a variety of sports, hobbies, and occupations. So, for your prescription motorcycle glasses needs and your other eyewear needs, visit our webpage. You will have the safest ride when it comes to your vision and do it in style too.