Finding the Perfect Motorcycle Riding Glasses to Give As a Gift
When you or someone you know owns a motorcycle, you may underestimate the importance of wearing proper eyewear. So if they don't already own a pair, it's a great idea to buy them a set of motorcycle riding glasses as a gift. Whether they need a prescription or not, the amount of available options makes this a perfect gifting opportunity before the holidays.
A Brief History of Motorcycle Eyewear
Wearing glasses while riding a motorcycle isn't a new thing. As a matter of fact, wearing protective eyewear while riding in a vehicle dates back to the early 20th century. Gile J. Willson and his son Dr. Thomas A. Willson founded Thomas A. Willson & Co. in 1871, and in doing so, created goggles and glasses meant to be worn for automobile drivers, motorcyclists, and even aviators.
These first transportation glasses were designed with a tint, in order to help to prevent the glare of the sun and allow the driver to better see where they were going. Additionally, goggles or glasses served a great purpose simply in protecting the drivers' eyes from any debris that would be kicked up from driving on the ground, or any debris that could be in the air when flying a plane.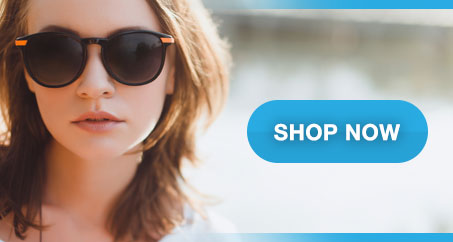 Willson and Willson did not just manufacture goggles and glasses, of course; during World War II, they helped to create gasmasks and other protective military wear. Years later, they even branched out into fashion sunglasses.
A lot of things have changed since 1871, but some things remain the same. Even today, the need for proper eyewear when driving a motorcycle still exists. The function of motorcycle riding glasses may not have changed, but the available options and styles have come a long way.
Finding the Right Pair
When you are looking for glasses for yourself or for someone else to use as a gift, you have a wide range of options to consider. The first thing you want to decide on is whether or not you are looking for a more traditional frame, or rather something more akin to goggles. There are many different attributes to consider when picking out the right pair.
Glasses or Goggles
If you are looking for a gift and are unsure of exactly what to get, you can always go with a tried and true favorite. A basic pair of motorcycles glasses with clear lenses will give the driver a great amount of protection on and around their eyes, serving them well on any type of motorcycling trip. Additionally, it's important to consider what you think your driver will find more comfortable.
For some people, there is a certain feeling of security when wearing goggles; because they wrap around your head, you don't need to worry about them falling off. Of course, regular glasses don't fall off at high rates either, but for some people, the feeling of security is simply different.
Once you've decided on a style that you like, it's time to evaluate what color you want your frame to be. Black is a naturally classic color, but you can also pick glasses that are brown, clear, or those that boast a pattern.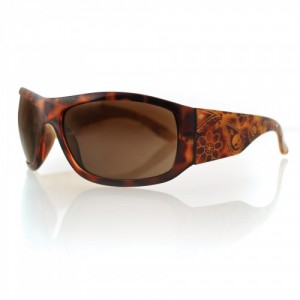 If you are buying motorcycle glasses for a woman, you have a number of options in addition to all the regular choices offer a bit more fashion than traditional riding glasses. For example, the Bobster Vixen Sunglasses, Gold Paisley Frame with Anti-Fog Brown Lenses, #EHHV3 is a great pair to get for a woman.
Polarized Lenses
If you are looking for a pair of motorcycle glasses that has a little more to it than just the frame, you should consider glasses that come with polarized lenses. These lenses are designed to help not only protect your eyes from debris from the road, but also have a more important function: to help reduce haze and glare.
If you are driving on a road after the rain and the sun is shining, the light reflecting off the water can be almost blinding. Similarly, sunlight reflected off of other vehicles can be very bright and impede your vision. That's a result of the direction of the light: instead of being scattered in all different directions, it comes at you in a more horizontal orientation. This light is extremely bright, and will cause both squinting and general discomfort.
Polarized lenses work by filtering out any light that causes glare, making it easier to see and clear up your vision. Therefore, if you are looking for a pair of motorcycle riding glasses that maximizes effectiveness for the driver, finding polarized lenses is ideal.
Additional Options
Of course, you have many different color options of polarized lenses like smoke green, smoke grey, silver flash, blue mirror, and emerald mirror. You'll be able to find a color you like with a style that you also find attractive.
You can also get lenses that are anti-fog, which helps to keep your vision clear even in bad conditions. Naturally, we also offer are regular sunglasses that can help to protect your light from harmful ultraviolet rays and, much like polarized lenses, minimize squinting that can reduce your field of vision.
If you or someone you love rides a motorcycle, finding them the perfect pair of riding glasses is a great gift idea. Not only will the gift be unique, but it will also be useful that can make riding or driving a motorcycle even more enjoyable. This pre-holiday period is the perfect time to find the perfect pair.