Headed to Thunder Beach? Don't Forget Your Prescription Motorcycle Glasses
Twice a year in Panama City Beach, Florida, Thunder Beach hosts Panama City Beach's version of Bike Week. Thousands show up for a good time and be around friends and other motorcycle enthusiasts.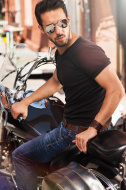 There is a spring rally and an autumn rally and both feature activities (poker runs, parades, parties, and bikes shows), items and accessories for sale, and of course – the rally itself. It's the perfect way to get away from it all, make new friends, and hang out with the old ones.
The one thing you'll want to keep in mind if you're heading down to Florida for Thunder Beach is to bring along your prescription motorcycle glasses. The Florida sun is very bright and if you wear prescription sunglasses then they'll get a lot of use down south. This is because the earth is a sphere and the sun will be higher in the sky in Florida than it is in Michigan. The point is, bring your motorcycle, bring your friends, but definitely bring your prescription motorcycle glasses.
Prescription motorcycle glasses not only help you see better but there are plenty of options that will make things even more clear such as polarized lenses, anti-reflective lenses, and UV coating. And while it's highly unlikely that Florida will have snow in April or October, the sun is still very bright and so is that pretty, white beach sand. You'll need your prescription motorcycle glasses to not only see better but also protect your eyes from bright sun and glaring sand and highways.