Motorcycle Riding Glasses: Keep It Simple
Motorcycle riders are in a class by themselves. They are their own breed of people; there is just something about them that makes them different from everyone else. It does not matter if they prefer riding on the highway or if they love riding in mud or dirt, their motorcycle becomes part of who they are, and so does their choice of gear.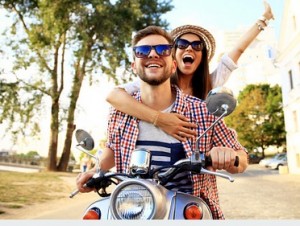 For anyone who rides, you understand how important your choice of gear is. The gear you choose should be part of your lifestyle and your personality. You want to wear a pair of boots that are sturdy and strong, you want to have nice gloves that will protect your hands, and you want your motorcycle riding glasses to be cool, comfortable, stylish, durable, and flexible.
All of these factors are important when it comes to choosing a pair of motorcycle riding glasses. Here are some reasons why these factors are so important.
Comfortable
Who wants to ride on the open road or on a dirt road with uncomfortable motorcycle riding glasses? No one. If you know you will be on the road for a significant amount of time, you will want to be as comfortable as possible.
You need a pair of motorcycle riding glasses that are just right for you. You do not have to wear a pair of riding glasses just because they were suggested to you. You want your pair of glasses to fit on all parts of your head.

You want your choice of motorcycle riding glasses to be comfortable around your ears and you want them to fit comfortable on the bridge of your nose. It may help to choose motorcycle riding glasses that come with a cushion so you can be comfortable for the entire day.
You do not have to settle for riding glasses that are poorly put together.  You do not want the wind, dirt, debris, and sunlight to sneak in and impair your vision. There are various types of motorcycle riding glasses that will provide you with the ultimate comfort.
Your Style
When many people think about motorcycle riders, they sometimes picture guys or women in jackets with beads or rhinestones on them. This is not the case for every rider. Not all riders need to be flashy and not all riders like colors. Riders just need something that will get the job done.
Motorcycle riding glasses can come in simple, yet stylish features and colors. Riders can stand out without being too colorful or flashy. The comfort level should be the first priority, but it will not hurt to consider a pair of riding glasses that has an awesome design.
Motorcycle riders know what they like and they know what they want. There is a long list of things that will need to be considered when choosing a pair of motorcycle riding glasses. You know that riding can get a little tricky and it can sometimes be uncomfortable if you do not have the right gear.
Motorcycle riding glasses should be comfortable, durable, and versatile because you need glasses that will protect your eyes in various weather conditions and bike riding conditions.
If you go down the list of the important things you need in a pair of motorcycle riding glasses, you will be all set when it is time to ride. You do not have to go with the flashy glasses or goggles. You can choose something simple and still be the stylish rider you are.
If you are looking for a pair of motorcycle riding glasses, browse around online or in a store to find the pair of glasses that will be perfect for you.