No Sacrificing Style for Safety with Wiley x Glasses for Motorcycle Riding
Those who need prescription glasses to see generally need them most of the time. Of course there are exceptions, but driving should not be one of them. So why is it rare to see an individual driving a motorcycle also wearing prescription lenses?  Furthermore, if they are going to wear a helmet or wear leather to protect themselves during a potential crash, why increase the odds of getting into a crash in the first place by not wearing glasses? It is no secret that with the increased exposure in a motorcycle and with cars whizzing by inche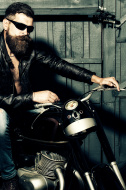 s from the face, taking all precautions can save lives.
Wiley x glasses for motorcycle riding provide a smart, stylish, and affordable option that will increase safety and security on the road.  These glasses take into account all of the unique challenges presented to bikers that other lenses may not acknowledge. Options include but are not limited to:
Tint Adjustment: Light Adjusting Lenses change as the sun gets brighter or the sky becomes overcast, creating a seamless transition that maintains a constant tint.  They also use specific and unique polarization technology.
Facial Seal: The Facial Cavity Seal molds to the eyes and blocks out side and top light, debris, and wind. It is also removable to make cleaning easier.
Climate Control: Using a top down technology for ventilation, these glasses keep your eyes at a mild temperature and the lenses free of mist and fog.
Made from strong yet light material, Wiley x glasses are a must for any regular or casual biker.  They are prescription ready to get you on the road as quickly as possible, and isn't that really what it is all about?
To learn more about motorcycle riding glasses, check out prescriptionmotorcyleglasses.com for additional information.