Prescription Motorcycle Glasses Lens Types
When it comes to being out on the open road, there is nothing like being on a motorcycle and if you're a rider, then you already know that. However, if you need prescription motorcycle glasses, you may not be aware of the different lens types that are available. Here are the various materials and how each functions for motorcycle glasses.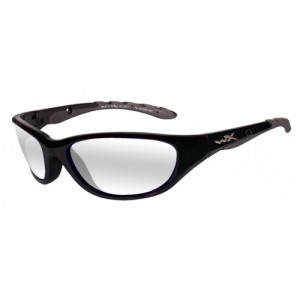 Polycarbonate
This is a material that is found in almost all of the lenses in motorcycle glasses. It is the most inexpensive material, which doesn't mean that it is not formidable or a good material – it is just the most basic of the best.
The good thing about polycarbonate is that like the other types of prescription motorcycle glasses lens types, it supports a variety of options such as transitions, tinted, and polarized lenses.
In tests performed on polycarbonate material such as a stress test, the lens protects the eyes perfectly although there is damage to the lens itself that cannot be repaired. You'll find that this is the default lens choice on many brands of prescription motorcycle glasses and it's a worthy choice.
Trivex
If you happen to be looking for a military-grade lens choice than Trivex is your material. The United States Military created this as an upgrade to the traditional polycarbonate material and when performing the exact same stress test that was performed on the polycarbonate lens, while the eyes were still protected accordingly, the lens itself showed almost zero damage. This is actually the same material used in helicopters and combat jets.
This type of material also supports the options of transitions, clear, polarized, and tinted. There are more benefits with Trivex than polycarbonate though – the peripheral optics are better than polycarbonate and they have a lighter weight. Add that along with the extreme durability and you have a really impressive and tough lens for your prescription motorcycle glasses.
SR-91
Developed by Kaenon, SR-91 is another material and is actually a polarized version of Trivex. How it works and is created is that two Trivex lenses are taken and placed between these two lenses is a premium polarization film. While these are only available with tinting in the polarized form, the optics are exceptional and combine the best of both worlds. This is actually a luxury performance eyewear brand and the SR-91 is a proprietary material that has been available on the market since 2001. It is the world's premier non-compromising polarizing lens and the only lens material that offers ultraviolet protection at a full 100%.
Digital Free-Form Surfacing
Now when it comes to the technology side of things, digital free-form surfacing allows the rider to see much more clear while the old way of doing things limits the ability to see well. Compared side by side, the traditional way will have the wearer seeing a warped vision of the world while the digital free-form surfacing caters to a specific prescription and ensures a crisp and clear vision – the way it was intended.
It's called "free-form," a revolutionary digital manufacturing process that uses computer-aided design and surfacing to create high-level, customized eyeglass lenses with your unique prescription.Think of it as a tailor for your eyes. Just like you can take an off-the-rack pair of pants and have it customized to fit your specific measurements, you can now have lenses made customized for your specific prescription and frames."
There have been so many advances in technology over the years that prescription motorcycle glasses have a variety of options that not only allow you good performance in a lens, but you also have better vision and a more clear ride.