Prescription Motorcycle Glasses: Stylizing Your Eyewear for the Road
Prescription motorcycle glasses are maybe on your agenda as you realize your eyesight needs some adjustment to safely ride. No matter your age, bad eyesight can make your motorcycle journeys more dangerous and ruin the riding experience. Thankfully, it's possible to find suitable prescription eyewear so you don't have to give up one of your true joys in life.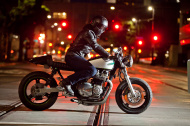 Your only concern is finding a pair of riding glasses that are comfortable. While you may know you'll find comfort through designer brands, you're also probably concerned about how stylish they'll look.
The word "prescription" doesn't have to mean plain-looking glasses that don't appeal to your personal style. You can still find various types of lens materials, tints, and even wraparounds. Many prefer the latter for better comfort while riding, though sometimes assume they aren't available in prescription form.
Take a look at what's available so you can see your options on the market today. It's time to realize that wearing prescription glasses while riding a motorcycle doesn't mean having to change how you look.
Finding the Right Lens Design
If you're strictly having problems with your distance vision, you'll want a single vision lens. This is the most common type of lens when nearsightedness disrupts being able to safely see road signs. It also means you won't have these lenses designed as bifocals.
The best type of single lens gives you a sweet spot for good distance vision without having to turn your head. Having this is already important if you spend considerable time on the road with your motorcycle.
As for up-close vision, you'll want a progressive lens that gives you a reading portion at the bottom section. These are bifocals that let you have distance vision at the top section of the lens without getting in the way of letting you read your motorcycle gauges.
Tint Options
When you're looking for true style on your motorcycle glasses, tints can set a fun statement. Tint styles are numerous on prescription lenses, and all of them help protect your eyes from the sunlight.
Many people choose standard tints that help block nearly 90% of light, and eliminates all harmful UV rays. Polarized tints are just as popular, though they have more limitations on color choices. You'll want a polarized tint to eliminate excessive glare from the sun when riding in sunnier climates.
Other tints to consider include transitional lenses that come in a variety of darker colors. These change color automatically when the sun gets too bright.
Mirror lenses are continually popular because of their unique appearance. They block sun better than other lenses because they reflect light. These also come in just about any color you can imagine, so you'll have a fashionable look that lets you stand out.
Choosing Lens Materials
Lens quality is everything in how your prescription glasses hold up while riding. Most motorcycle glasses on the market use the best materials available in the world that aid in helping you prevent the glass from shattering. Road debris could easily ruin your glasses if using standard lenses.
It's one reason most prescription motorcycle glasses have polycarbonate. This material is already used for million of products to bring more durability. They're generally the most affordable, though you have two other options that are even stronger.
Trivex is a newer lens material designed by the military and as a variation on polycarbonate. With extra durability, it's useful if you drive in areas with more potential of flying debris. You'll get good styling as well since it's very lightweight.
SR-91 is the next step up as a polarized version of Trivex. It's the strongest lens material out there, though much more expensive.
Visit us here at Prescription Motorcycle Glasses to find the right eyewear for the best style on the road.