Safety and Style – Tips for Choosing the Best Motorcycle Riding Sunglasses
There is no shortage of cool and fashionable sunglasses available for motorcycle riders. However, it is important to select a pair of sunglasses that are also safe and functional. Fortunately, many manufacturers take this into consideration and attempt to be both fashionable and functional. Here are some tips to help you choose motorcycle riding sunglasses that will meet a rider's safety needs.
Lens Color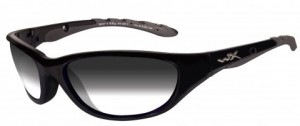 The shade and color of your lens significantly affects your vision. It determines how much light reaches your eyes. The color also effects how well colors are seen and dictates contrast. Pink, blue, and green lenses are not recommended for motorcycle riders as they can make traffic light colors indistinguishable. The best colors for driving lenses are neutral colors. This includes gray and brown.
Tint
The density of the tint is the most important factor as this determines how much light is allowed through the lens. Tint density is measured and classified by class. Zero being the least dense tint and for being the most dense tint. Class for is not recommended for motorcycle riders because it allows very little light through the lens, thus impeding vision. Class zero is also not recommended as it does not keep out enough sunlight. Classes one, two, and three are safest for driving motorcycles or any vehicle.
Frames
The frame style you select is also significant. Oversized frames are not recommended. Try on frames and make sure they do not compromise your peripheral vision. They should fit properly without slipping or shifting.
It is not difficult to find a pair of riding sunglasses that are both stylish and safe. Remember that sunglasses serve an important purpose, so take your time and choose the perfect pair for you. Use the tips above to assist you in selecting the right pair.