Spring Forward to Sport Wiley X for Motorcycle Riding
With the weather turning warm, motorcycle riders everywhere are bringing out their bikes for a cruise in the open air. The thrill of being one with nature matches nothing else for the motorcycle enthusiast. Feeling the warmth of the sun and the whip of the wind blowing rapidly as you race along the road is a fantastic feeling. As the engines rev up and bikers get ready to plunge into the season, it is time to consider a very important feature of motorcycle riding. Bike riders have long worn motorcycle glasses for their style, but more than that their protective features are gaining notoriety. When you ride that close to the elements, you want protection and style that surpasses the nominal. One protective eyewear brand that goes beyond the standard and delivers superior comfort, style, and safety is Wiley X. Let's take a look at why Wiley X eyewear is a great choice for motorcyclists. 
History of excellence
Wiley X got its beginning with a mission. Through determined research, testing of various materials, and a purposeful plan, they developed a line of protective eyewear for the United States military and law officials. Understanding the need for exceptional quality, they produced eyewear that withstood rigorous military action and active law enforcement life. They discovered a product that was not only an asset to those serving in dangerous or volatile environments, but the civilian market took notice. Those in industries that promote active lifestyles contacted Wiley X desiring to gain access to the phenomenal brand. A few of the industries benefiting from the rugged nature of Wiley X include:
Motorcycle riding
Extreme sports
Hunting
Sports
Fishing
With 30 years plus of experience, Wiley X has consistently set the standard for superb eyewear for those in high-performance activities such as motorcycling. What are some of the reasons for Wiley X's popularity with so many industries and people? Listed below is a breakdown of its extraordinary safety features and styling options. Both of these have helped solidify the reputation of Wiley X for its frontrunner status in the eyewear industry.
Safety features
With a history of working with military and law enforcement personnel, Wiley X started its business making ultra-durable eyewear. They had a couple goals in mind when it came to safety. They wanted to ensure their customers, which were military and law enforcement workers, were satisfied and guaranteed eye protection. The only way to accomplish this goal was to put their product through rigorous testing and raising the bar high on standards. To meet expectations, Wiley X required that their adult eyewear pass the ANSI Z87.1 safety tests for high velocity and high impact. ANSI stands for American National Standards Institute. Founded in 1918, ANSI helps "assure the safety and health of consumers and the protection of the environment." The part of the safety code that reads Z87.1 means that the eyewear protects against impact, splashes, dust particles, and even some types of radiation. In addition to these standards, the Wiley X brand exceeds OSHA occupational safety standards. As you can see, meeting these demands made the Wiley X brand a leader in rugged durability.
Style options
Wiley X doesn't just focus on the safety of their glasses, although that is a big part of it, but they also offer many style options, too. From goggle style to supreme sunglass style, there are many varieties and colors. Additionally, prescriptions are transferable with many of the Wiley X glasses. Some of the featured styles include:
Black Ops: These sunglasses boast style in a low profile look. Classic black with muted logos give the wearer an "off the grid" appearance. Many different choices are available including options for different colored lenses. All Black Ops eyewear meets the standards for ANSI Z87.1 high impact/high velocity plus it passes the ballistic standards MIL-PRF-32432(GL).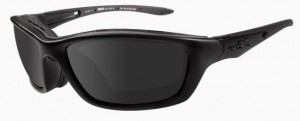 Climate Control: For a more sporty style, Climate Control offers distinct colored shades and more frame options. Some of the shade colors include:
Venice Gold
Emerald
Silver Flash Blue
Bronze
Grey
Amber
Yellow 
Frame colors vary to fit your style and taste, as well. However, the main feature of the eyewear is the ability to remove the facial cavity of the sunglasses. The removable foam-cushioned cavity seals around the glasses to protect against dust, pollen, outdoor debris, and the elements of motorcycle riding. Other features that come with many of the Climate Control series are as follows:
Shatterproof lenses
UVA/UVB protected
Distortion-free clarity
Scratch-resistant in extreme situations
Prescription ready
 Active Lifestyle: Attractive yet tough is how this series is described. When you want to have an active lifestyle such as riding hard and enjoying the road and look great while you do it, then the Active Lifestyle brand may be just the right style for you. Select from a variety of frame choices including solid colors or a patterned look. Lenses also come in several different colors. These sunglasses hold up to all the rigorous standards upheld by Wiley X including the ANSI Z87.1. Lenses are shatterproof and 100% protected from the sun's rays, which will be a help on those glaring sun-filled days. Light transmission ranges between 12 % and 18 %.
So, as you spring forward to nicer weather, take time to enjoy your bike. As you make plans to hit the road, don't forget about protecting your eyes and looking great. Consider Wiley X for your protective eyewear. Considered a leader in the industry, Wiley X has sunglasses to fit every style and need.