What are the Best Sunglasses for Motorcycle Riding?
Choosing the best sunglasses for motorcycle riding is more than finding a pair to match your jacket. Eyewear can save your eyesight and your life. Look for options that will shield your eyes from sunlight and glare, which can obstruct your view and cause an accident. Sunglasses and prescription glasses for motorcycle riding should be shatter-resistant while protecting your eyes from rain, unexpected hail and flying debris like dirt, pebble and more for added safety.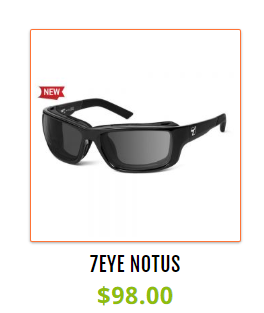 Today's eyewear, including motorcycle sunglasses, can help you see better in bright sunlight and even reduce nighttime glare from oncoming headlights. If you already wear glasses, consider putting those aside in exchange for prescription lens sunglasses while riding. Unlike standard eyewear, good quality motorcycle sunglasses offer not only added protection and optical clarity, but also provide comfort, durability, and style.
Find sunglasses to fit your helmet. An open face helmet leaves room for many styles to choose from in protective motorcycle sunglasses. If you wear a full-shield helmet, look for sunglasses that will fit under the shield, with a lens that allows crisp vision even with the shade of the helmet.
If you don't wear a helmet, invest a little extra money for shatterproof protection, with a wraparound frame. You'd be surprised at the number of bugs, pollen, gravel, and dirt that flies through the air, and the last thing you want is debris in your eyes while you're riding.
When researching the best motorcycle sunglasses, price and style are a factor for many of us. Fortunately, today's styles allow you to have it all for the price that makes you happy. But there are some important features to include for any style.
Reduce eyestrain when riding in bright sunlight. The best sunglasses are not always the darkest, but instead should reduce glare, too. Sunglasses like the Wiley X Vallus are a perfect example of affordable glasses that offer 100% UVA and UVB protection. The shatterproof lenses provide distortion-free clarity, and they protect your eyes from dust and wind, so your eyes don't dry out while riding in extreme conditions.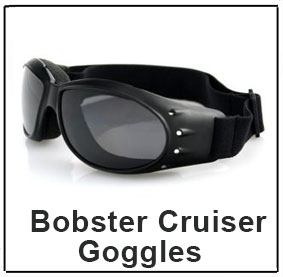 When choosing your glasses consider frame styles that help reduce eyestrain by offering extra protection. Sudden peripheral glare due to reflections from nearby cars or buildings can interfere with vision or worse, cause an accident. The 7Eye Shaka sunglasses are a solution that offers 100% UVA/UVB protection with a wraparound frame for added safety and less glare.
Protect your eyes from dangerous debris. The open road and the city can be hazardous if you're not prepared. The Wiley X Boss with RX Rim is a top choice of protective eyewear that fits a wider variety of lenses and helps protect your eyes from hazards like flying rocks or bugs. Like most quality motorcycle sunglasses, the lens is shatterproof with a scratch-resistant coating. But this one comes with a removable facial cavity that offers snug protection from wind, pollen, and even peripheral lighting, which offers peace of mind whether you ride during the day or night.
The Oakley Standard Issue Shocktube Sunglasses are a top of the line style that offers some of the best protection for your eyes. These industrial style glasses offer superior protection and optical clarity. They also include a hex-key to make it easy to swap lenses, while the frame comes with an upper and lower jaw for the best impact protection. And these sunglasses are lightweight with thin ear stems for comfort and style.
Choose the right lens for added safety. Lenses come in either glass, plastic or polycarbonate. Traditionally, glass lenses were the first choice for eyewear, since they last longer and are more scratch-resistant than plastic lens. But plastic lenses are less reflective and so reduce glare, while being lighter than glass. Glass lens may not be the best choice while riding a motorcycle, so many choose plastic, first. But polycarbonate beats both of these materials.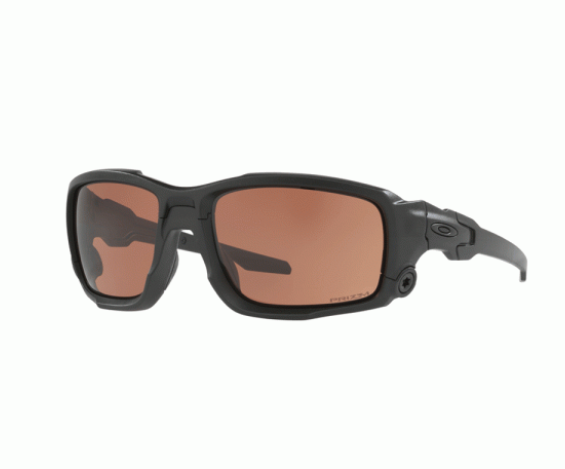 Polycarbonate is the best for any sports eyewear, hands-down. They are scratch-resistant, lightweight and shatterproof. This makes them the safest choice for motorcycle riding. One example of safety in eyewear is the Wiley X Aspect, which is shatterproof, offer top-quality protection from UVA/UVB rays and have an added layer protective lens coating for protection in even extreme environments.
Use sunglasses that adapt to your environment, especially if you ride in an area where the climate can quickly change. Look for lenses that allow enhanced contrast for greater visibility beyond shade. Sunglasses like the 7Eye Aspen offer what they call Airshield Technology that creates a seal around your eyes while you ride. But along with 100% UVA/UVB protection, it also includes filtering vents for reduced fog and to manage air circulation. This helps ensure your vision remain free from distortions or distractions that can put you in harm's way.
Some people prefer glasses with full protection from the elements. A foam seal around the lens can offer added protection that also prevents perspiration from dripping into your eye, which can bring road grime with it. The 7Eye Churada is top in this category and comes with a removable Airshield that can provide comfort for longer rides and changing environmental conditions.
When choosing the best sunglasses for motorcycle riding, remember some protection from the sun while others work like full-on safety glasses. Sunglasses may be an option for shorter rides without too much speed, but if you're riding on the open road, you will need more protection. Consider which elements you need protection from. For example, a desert environment might need more protection from UVA/UVB rays and wrap-around technology to protect from dry eye. A humid environment can change quickly and using filtering vents to reduce a fogged-up lens might be imperative for a night ride.


If you ride a lot, considering owning a couple of pairs of the best sunglasses for motorcycle riding. Brands like the Wiley X Gravity allow you to use your own prescription. They will fit under a helmet shield and block out wind and debris. Keep a larger, wrap-around pair for times when you don't wear a helmet. Many of the top brands offer the top styles, so you don't have to worry about fashion. And, no matter what eyewear you choose, look for top-quality protection from light and road hazards that can take the fun out of riding. This will help you enjoy your ride while you feel safe knowing you made the right choice.