New Motorcycle Product Review: Helite Adventure Airbag Jacket
Motorcycle junkies are always looking for the newest and best products to enhance their motorcycle riding experience. At Prescription Motorcycle Glasses, we have all of the latest styl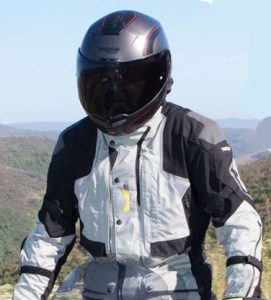 es of motorcycle glasses. But we also want to keep you updated on new motorcycle product reviews. This blog entry summarizes a review of the Helite Adventure Airbag Jacket from the experts at webbikeworld.com.
Motorcycle jackets are essential to any motorcycle rider's gear. It is key to your protection, if you were to get in a wreck. What makes the Helite Adventure Airbag Jacket so special? To begin with, it has the Turtle airbag system which is powered by a replaceable CO2 cartridge. Upon impact this airbag inflates in 100 milliseconds. This could mean saving your life by protecting your vital organs.
But, if you are expecting this jacket to make you look like the Michelin man, think again. It is as sleek as a normal riding jacket and has many other features we would look for in a riding jacket. It has a removable thermal liner, a breathable, water and wind-proof liner, and extra fabric on the elbows, shoulders, and forearms. Another great thing about this jacket is that it is 3/4 length, so it covers more of your torso and back than a typical riding jacket. Not to mention, the airbag technology is pricy on its own (also sold as a vest by Helite). But the airbag jacket is more of a bargain than buying a jacket with the airbag vest separate.
If you are looking into a new, high-end motorcycle jacket, consider the Helite Adventure Airbag Jacket. And if you need prescription motorcycle sunglasses, as always, check out our selection at Prescription Motorcycle Glasses.