The Top 4 Most Common Questions About Motorcycle Riding Glasses
A motorcycle ride is no fun without the right gear; in fact, it's downright dangerous. If you are a relatively new motorcycle rider who is in the market for some riding gear and equipment, you have come to the right place. Before you hit the road, it is imperative that you have the right clothing, boots, helmet, gloves, and glasses. All of these things make your ride safer and in turn more enjoyable.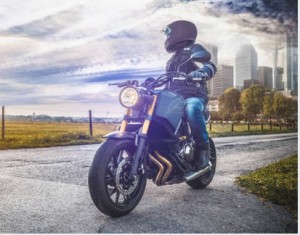 When it comes to motorcycle riding glasses, it is understandable that new riders may have some questions. In this post, we will take a look at four of the most common questions regarding motorcycle riding glasses and address each one today.
Can I Find Motorcycle Riding Glasses That Will Accommodate my Prescription Needs? Absolutely. There is no lack of both prescription and non-prescription glasses available to motorcycle riding enthusiasts. If you typically wear glasses on a daily basis, you won't be able to wear those glasses while riding without running the risk of having them fall off your face and put you in a seriously compromising position on the road. That's why you will want to invest in motorcycle riding glasses that come with your prescription. While not all lenses can accommodate a prescription, almost all of them can include corrective lenses, be it for nearsightedness, farsightedness, or bifocals. Just make sure that you can add your prescription details when ordering your motorcycle riding glasses.
Why Are There so Many Different Lens Colors And Which Ones Should I Choose? There are a wide variety of lens color options to choose from for both stylistic and practical purposes (although to be totally honest, most people choose a certain lens color for stylistic reasons). The most popular lens color seems to be the most traditional lens color: grey. Grey is so popular because it does the best job at keeping glaring sunlight out of the eyes when riding in bright conditions. For low light or night time riding, amber is a very popular color among many motorcycle riding enthusiasts. However, it should be noted that clear lenses are probably the safest option for nighttime riding. As a general rule of thumb, pick sunglasses with darker lenses for any kind of riding done in bright, sunny, or overcast conditions. And for riding at dusk or night time, the lighter the lens, the better.
How Much Should I Spend on my Motorcycle Riding Glasses? It's not exactly the answer people like to hear, but it is the only correct one: it depends. How much your motorcycle riding glasses will cost you depends on several different factors. Motorcycle riding glasses range in price from just ten bucks a pair for the cheaper quality eye wear options to a couple hundred dollars. Set a budget for yourself and determine how much you want to spend on your motorcycle riding glasses before purchasing anything. Think of this as an investment. When you invest in something, you are investing long-term into the future. If you want motorcycle glasses that are highly durable and will last your for several years of thousands of miles on the road, you should definitely expect to pay a bit more than ten dollars. This doesn't mean you have to spend hundreds of dollars on your motorcycle riding glasses, but the saying "you get what you pay for" certainly rings true in regards to your motorcycle gear and accessories. You can find a high end pair of motorcycle riding glasses for anywhere from sixty to a hundred dollars and be confident that they will last you for a long time. Other factors that will influence the cost of your glasses include different features, brands, and whether or not the glasses require corrective lenses.
What Should I be Looking For When I Buy my First Pair of Motorcycle Riding Glasses? Motorcycle riding glasses serve two purposes: to improve your visibility on the road and protect your eyes. Having a technologically advanced design of your lenses will help maximize clarity while riding. Other factors that will enhance your visibility include a ventilation system to minimize fog or an anti-fog coating on the lenses, a scratch-resistant coating, and glare reduction. Obviously, for anyone who requires a prescription lens, having the right prescription will also maximize clarity. Secondly, as stated above, the other purpose of your motorcycle riding glasses is to protect your eyes. You want to find motorcycle riding glasses that will effectively shield your eyes from harsh winds, dirt, dust, pebbles, insects, and any other hazardous debris that might be on the road. In order for motorcycle riding glasses to properly protect eyes while riding, the frames and lenses must be constructed with high end, ultra durable material. It is also important that your motorcycle riding glasses come equipped with features such as soft, rubberized nose pads and temple bars. These items are not designed solely to optimize comfort of the rider, but to ensure a strong, secure grip so that the glasses do not slide off the face while riding or allow sweat to trickle down into the eyes. To summarize, seasoned motorcycle riding enthusiasts generally look for the following things when buying their glasses: durability, functionality, practicality, security, comfort, and style.
Have a question about motorcycle riding glasses that you didn't see listed above? Don't hesitate to reach out to us today to learn more about the many different eye wear options available to riders.