The Unexpected Benefits Of Foam Seal Goggles
You might not know it, but foam is actually a very important feature to have in your eyewear when you are riding a motorcycle. That's because of the invaluable work that foam does in order to provide your eyes with the most protection.
Most riders do not think that they really need foam in order to protect their eyes or enjoy their ride. In reality, the material features a number of benefits that greatly increases the need for foam sealed goggles.
Prevent Dirt, Dust, and Debris
Naturally, the core function of protective eyewear is to help to keep your eyes safe while you are on the road. This core feature is crucial for motorcyclists, because they have to contend with more than just glare coming off cars around you as well as the sun.
In addition, you simply don't have a windshield to protect you from dirt, dust, debris, and even bugs. That's why the right eyewear is vital to keep you safe, and the right fit is absolutely necessary in order to get the most effective protection possible. Foam, in most situations, is your ideal solution.
Of course, this feature becomes more important in some areas than others. For instance, if you like to ride in very dry conditions or very windy places, you will be thankful you chose this option. These areas exist all over the United States, which means that this type of eyewear is useful no matter where you live. The seal offers an additional level of protection that helps to prevent any small particles of dust or dirt from making their way into your eyes.
Great Fit And Comfort
While riding your bike, you might worry that these types of goggles are simply too big and bulky. In reality, they are designed to be lightweight in order to give you the maximum benefits with no discomfort or inconvenience. The foam also works as a padding, helping to keep your goggles tightly fitted to your face without causing discomfort.
The proper fit is absolutely vital when you are wearing any kind of protective eyewear. If you wear goggles that don't offer you a comfortable fit, you will compromise their effectiveness. Generally speaking, a core advantage of any goggles is that you don't have to worry about them fitting too loosely around your head. Since you are able to adjust them, you'll be able to control how tightly they fit to your face, which will allow you to ride in style and (more importantly) in comfort.
Additionally, you should know other measurements of your face in order to ensure a proper fitting pair of motorcycle goggles. Measurements of your eyes, your nose, and your temple are great to have with you when you are looking for a pair of goggles, as they will enable you to  to find the right option for your face shape.
It's difficult to overstate just how important the right fit becomes. Especially when shopping online, you want to be sure to find what you are looking for. Since you can't physically try them on before you buy them, it helps to verify that any product you buy will fit your face. And again the fit is also crucial for providing your eyes the best safety possible.
You may be nervous about goggles with a foam seal, and afraid that they will cause fogging or moisture. In fact, the foam and structure of the goggles are designed to function perfectly. In other words, most goggles you can find will have some type of ventilation incorporated. There will be very small open sections in order to allow your eyes to breathe, without compromising the goggles' effectiveness.
Types Of Foam
When choosing goggles, you will be able to to choose between open cell foam and closed cell foam options. Closed cell foam is very durable, flexible, and lightweight. Additionally, it is resistant to chemicals, mold, or even fungi, which is especially useful if you find that you tend to sweat while riding your motorcycle.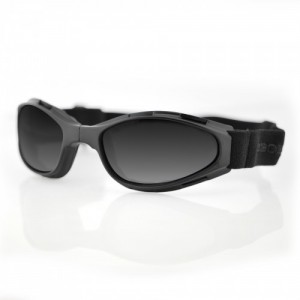 A great example of goggles that offer close cell foam are the Bobster Crossfire Folding Goggles, which offer a sharp design and great functionality.
Open cell foam is softer, acts more like a cushion, is typically less expensive, and is a good insulator. Goggles with this type of foam perform especially well when absorbing sweat, and providing you with a comfortable fit. Especially if you like to go on long motorcycle rides, a pair of goggles with open cell foam may be a better choice than its alternative. The Bobster Cruiser 2 Goggles come with open cell foam, and will provide your eyes with the protection that they need while also remaining comfortable on your ride.
Foam is an important part of providing function and comfort in your eyewear anytime you ride a motorcycle. Foam goggles will give your eyes the highest possible level of protection on the road, while at the same time remaining comfortable to wear.
You can even find foam seal goggles that can fit over your prescription glasses. Regular glasses simply don't meet the safety standards you need to maintain while riding a motorcycle. So if you do need to wear your normal prescription glasses, then the Bobster Nighthawk Goggles are a great choice.
There are so many goggles to pick from, you'll be sure to find a pair that will fit with your needs and do exactly what you want. Riding a motorcycle should be fun, and wearing the proper eyewear will enable you to enjoy the beauty that surrounds you while providing crucial protection to your eyes.