Why Regular Glasses Can't Replace Motorcycle Riding Glasses
Ever wondered what the difference is between motorcycle riding glasses and conventional prescription glasses or regular sunglasses? Or are you a new motorcycle rider who doesn't understand why regular glasses or sunglasses just won't cut it and get the job done the same way motorcycle riding glasses would? In this post, we will take a look at all of the reasons why it's necessary for every motorcycle owner to have a high quality pair of motorcycle riding glasses and not just rely on traditional glasses or sunglasses.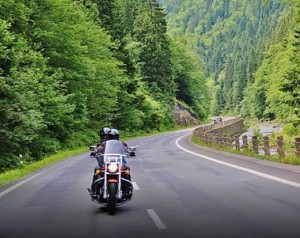 Greater Security: If you are wearing your regular prescription glasses or sunglasses when riding, there's a high likelihood that you'll be dealing with frames that don't sit on your face properly, slide down your noise, or feel loose on your face when riding. And the last thing you need is to be on a high speed motorcycle ride without the right eye gear or glasses that keep falling off. Leave the traditional glasses at home and only ride with glasses specifically designed for motorcycle riding. These glasses usually come with a foam seal that make for a comfortable, secure fit and will allow you to ride with greater peace of mind, never having to worry about loose glasses that could potentially slide off your nose and make for an extremely hazardous situation.
More Durability: Even higher quality, more expensive glasses and sunglasses don't provide the same level of durability that motorcycle riding glasses do. After all, motorcycle riding glasses are designed with durability as a main priority. They are high-impact eye wear that serve to protect the eyes from dangerous debris that could otherwise be quite harmful, especially for riders wearing open-face helmets. Motorcycle riding glasses do a significantly better job of protecting the eyes from hazardous debris and other elements from the road and outdoors. Because of sturdy, strong materials that make up the frames and the lenses, motorcycle riding glasses will prove to be a reliable, durable eye wear option for years to come.
They're More Comfortable: Motorcycle riding glasses include several important factors and each factor is carefully considered during the design process. As already stated above, motorcycle riding glasses offer more security and durability than regular glasses that aren't meant for riding. Another benefit motorcycle riding glasses offer is more comfort. If you plan to do lots of riding and go long distances for several hours at a time, naturally you want eye wear that not only offers the highest level of protection but comfort as well. Comfort might not seem like the biggest priority, but talk to anyone who does long-distance motorcycle riding and they will tell you how necessary comfortable, protective eye wear is. When you have motorcycle riding glasses that aren't comfortable, they becoming annoying and distracting. And the last thing you want is a distraction when riding as this could lead to a crash or other type of road accident.
Greater Protection: Traditional prescription glasses are designed to aid vision and traditional sunglasses are designed to help see in bright sunlight. But motorcycle riding glasses serve more than one purpose, one of the most important being protection. Regular glasses and sunglasses aren't designed with the purpose of protecting eyes, just aiding vision. That's why it is so necessary to make sure you have the proper riding glasses designed specifically for motorcycle riding before hopping on your bike. When you aren't wearing your motorcycle glasses, you can't be guaranteed the highest level of protection for your eyes.
They're Designed For All Weather Conditions: When you invest in a quality pair of motorcycle riding glasses, they will aid you through any weather condition. When you get tinted riding glasses designed to block out UV rays, you're not only protecting your eyes from sun damage, but also optimizing your vision, allowing you to see more clearly on the road. And believe it or not, there are also several motorcycle riding glasses that will help you see more clearly if you ever get caught in the rain. Additionally, you also want motorcycle riding glasses that will help maintain good visibility even throughout areas where there is heavy wind, fog, or some other weather condition. Traditional eye wear that you use for prescription purposes just doesn't offer the same functionality.
You Have More Options: Fortunately for riders who have unique needs and preferences, manufacturers produce motorcycle riding glasses with a wide range of options. You can invest in a pair of motorcycle riding glasses with your priorities in mind. Is functionality a higher priority than style? Or is protection from UV rays more important than glasses designed for night riding? Do you need something with one feature in mind or a pair of motorcycle riding glasses that cover all of the bases and offer you multiple benefits? Motorcycle riding glasses offer exceedingly more than traditional, regular use sunglasses would. In addition to general features and benefits, anyone in need of riding glasses with a prescription can find a custom-designed pair to meet their prescription needs. Even riders who wear bifocals can have motorcycle riding glasses made for them that meet their near and farsighted vision needs.
Looking for more reasons why you should invest in a high quality pair of motorcycle riding glasses and leave your regular prescription glasses or traditional sunglasses at home? Don't hesitate to contact us today with any questions you may have. We are happy to help you find the right glasses for better riding.