5 Simple Safety Tips to Help You Enjoy a Better Motorcycle Ride
There's really nothing like the wind and the rush of riding a motorcycle across the open road. And though it is one of the most rewarding and liberating experien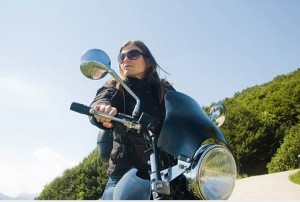 ces there is, motorcycle riding comes with great responsibility. In order to make your riding adventures safer for yourself and others on the road, it's important to constantly brush up on your safety knowledge and skills. In this post, we will take a look at five simple safety tips you can utilize in order to help you enjoy a better, smoother motorcycle ride.
Don't Get On The Bike Without The Right Gear: Tempting though it may be to just hop on the hog without your helmet or other safety gear and shoot a couple of miles down the road to run an errand, no matter how short or long your ride is, it's always vital to ride with the right equipment. To truly enjoy your ride with greater ease, it's necessary to protect yourself with high quality safety gear. Make sure you have a quality pair of riding glasses, a helmet, and the appropriate clothing before riding your motorcycle. Not only will it give you greater peace of mind to enjoy your ride more, you will be exponentially safer.
Actively Ride as a Defensive Driver: When there is a crash between a car and a motorcycle, around 60% of the time, it is the car's fault. What does this mean for the motorcycle driver? That they need to be extra alert when on the road and always working on their skills as a defensive driver. It's amazing how many vehicle drivers don't even see motorcycle riders around them. Make sure you don't tailgate cars, watch for drivers who are texting, and be as aware as possible of cars that might unexpectedly pull out from another road, change lanes, or turn in front of you. Use your senses, particularly your eyes, to watch other drivers on the road and be ready to act quickly in order to avoid a collision.
Consider Getting Some Anti-Lock Brakes: There is data conducted by the IIHS that actually proves bikers with anti-lock brakes on their motorcycles are 37% less likely to be involved in a fatal accident than bikers who do not have them. If you are looking into buying a new bike, definitely invest in a model that comes with anti-lock brakes as many new models do come with them. If you have an older bike, it's still a very wise idea to add some anti-lock brakes to your bike to up your level of safety on the road even more. And it doesn't matter if you are a newly minted rider or a seasoned veteran, investing in some anti-lock brakes is a wise move for everyone. Why? When a rider locks their brakes quickly in a panic, it reduces their ability to have any control of their steering. And when you can't steer properly, your chances of veering and crashing are significantly heightened. But when you equip your bike with anti-lock brakes, you can maintain control of your steering while steadily breaking.
Be Acutely Aware of Hazards on The Road: Defensive driving is an important aspect of motorcycle driving. Secondly, constantly being on the lookout for any road hazards is equally as important. Use your eyes to be aware of any sand, debris, pebbles, or wet leaves that could cause you to slip on the road. Road bumps and potholes can also be serious problems for riders, so either avoiding roads with these hazards altogether and being aware of them when you are riding are both important things to do. If you do a lot of riding in a more rural area, watch out for animals such as deer or foxes that could be crossing the road when you are riding. Your eyes are critical tools necessary for keeping you safe on the road. Use them to your full advantage and protect your eyes by ensuring you have the proper prescription safety glasses (if you have a prescription at all) and keep them safe with quality eye wear. Additionally, the right eye wear can also optimize your visibility on the road as well as protect your eyes from hazardous debris and harsh sunlight.
Avoid Riding in Bad Weather (as Much as Possible): In a perfect world, every single time that every single motorcycle rider in the world wanted to go for a ride, the weather would be flawlessly sunny with cloud-free skies. Unfortunately, rainy days and blustery winds are real and although you can do as much as possible to avoid the bad weather days, almost every rider has experienced getting caught in the elements when on the road. Before you plan to do any riding, take a few seconds to check out the weather for the day you are going to be riding. If you end up getting caught in the rain anyway, it is in your best interest to be prepared for what to do in wet, slippery weather. Don't do any sudden braking, slow your speed, and be extra vigilant in your defensive driving. It also helps to be wearing the right gear, particularly a durable jacket, a helmet, and eye wear. Having the right eye wear will help you achieve greater visibility whether it's a dark, cloudy, rainy, or foggy day.