Protect Yourself From Wind and Dust with Foam Gasket Seal Motorcyle Riding Glasses
When it comes to being on the open highway on your motorcycle, nothing is better. However, in certain areas of the country or during the summer months especially, dust is a big issue that can ruin your experience. With foam gasket seal motorcycle riding glasses, you are able to protect your eyes so that nothing comes between your riding experience.
Here is a little about foam gasket seal goggles, how they work, what the options are, and what the comfort levels are with each type of foam.
Foam gasket seal goggles help minimize eye irritation and tearing up while riding. The foam gasket seals ensure that the dust and wind is totally blocked out so that you won't have to worry about damaging your eyes. There are different types of foam and a variety of companies that offer this type of goggle with the gasket seal.
Different Types of Foam Padding
Perfect for protecting from air debris, there is a variety of foam padding styles to choose from. The one that is most sought after is closed cell foam. It works well due to its excellent durability. Not only that, but it is also flexible and versatile. This type of foam padding is resistant to chemicals, most solvents, mold, and fungi and it has a lightweight feel while having a low moisture absorption. This is perfect when you are riding in rainy conditions or near water.
The other thing about closed cell foam is that it is stronger than open cell foam. The materials that are typically used are EVA, polyurethane, and neoprene, which also means that these type of goggles can be more expensive. However, if you look at the durability, it is a good investment.
Open Cell Padding
A less expensive option of foam gasket seal motorcycle glasses is the open cell padding type. This type of goggles also works well but are not quite as durable as the others. However, they work well to insulate the eye area. The difference is that these allow more water absorption due to the open cells. Picture a sponge and how that works and this is similar to the open cell padding, without the holes being as big – same concept but just not to that degree.
What About Having Both?
There are some brands that offer both closed cell and open cell foam padding. These have either a double layer that has both types of foam or a layer of open cell foam to make the goggles more comfortable and a closed cell foam that works well to make the goggles durable and longer lasting.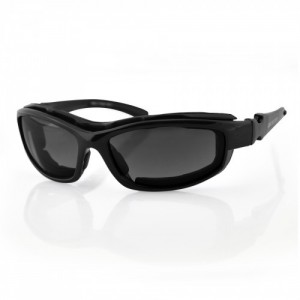 For instance, the Bobster Road Hog II has liners that you are able to switch out so that you can choose the one you want, when you need it, depending on the situation.
Other Options of Foam Gasket Seal Goggles
There is a company called Wiley X that has their own patented foam that is not disclosed. Their removable facial cavity seal technology protects from peripheral light as well as to protect your eyes from wind, pollen, and dust.
When it comes to protecting yourself from wind, dust, and other debris, there are many choices in foam gasket seal motorcycle riding glasses. More choices mean that you are able to choose one that not only feels comfortable but protects your eyes and fits your budget.
Whether it is the open cell foam you want in order to save a little money or you want the very best in durability and quality, these goggles are ideal for riding in style without compromising your vision quality.